Seminar on intelligent manufacturing: Improving upgrades in industry
On March 28, 2019, Ctdata, a member of the ClusterTech Group, participated in a seminar on using advanced IT technology to promote the development of intelligent manufacturing. Held in Chengdu, China, the aim of the seminar was to discuss how to speed up the upgrading and transformation of traditional manufacturing processes. The event was supported by the Chengdu Economic and Information Commission, sponsored by the Chengdu Integrated Industrialization and Informatization Enterprise Alliance. ClusterTech's strategic partner, Intel (China) was also an active participant.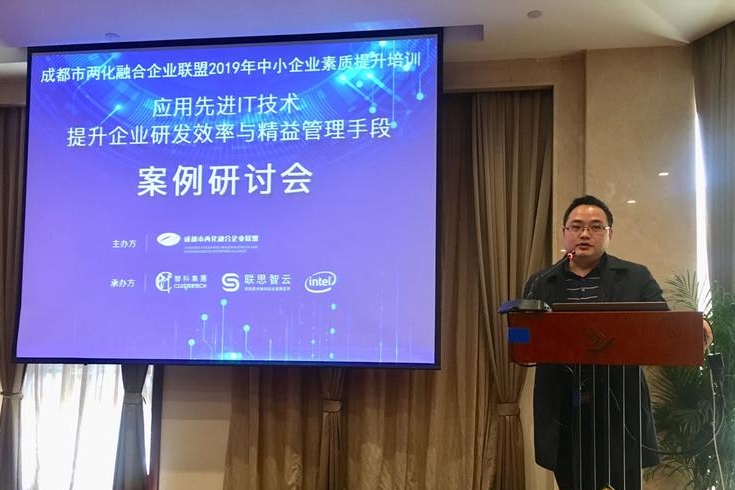 Jiang Chensheng, Director of Chengdu Industrial Economic Development Research Center
Fu Yongtao, Secretary-general of Chengdu Integrated Industrialization and Informatization Enterprise Alliance and President of Chengdu Industrial Culture Development Promotion Association
As a key client of Ctdata Co., Ltd, Mr Yang Liangbin, Minister of Information Department of Taier Heavy Industry, introduced Taier's information construction ideas and business system construction framework. With the help of Ctdata, Taier Heavy Industry has established a transparent integrated management platform, which has improved lifetime and quality management ability in their products.
Mr. Yang Jian, Senior Product Manager of Ctdata, delivered a speech entitled "Using Advanced IT Technology to Greatly Enhance the Research and Development Efficiency of Manufacturing Enterprises", describing the status of advanced IT technology in manufacturing enterprises, and how IT technology and design simulation has improved design efficiency, computing power and accelerating data science.
Using HYC Technology as an example, Mr Miao Hui, Manager of Ctdata in East China, analysed the requirements based on big data technology. His team implemented a system to solve issues such as delays and supply chains to minimise delivery risk and ensure optimal performance.
Mr Wu Yufei, Big Data Architect of Ctdata, reported on "Applying Big Data Technology to Achieve Enterprise Value Transformation". He described the present state of the manufacturing industry and the importance of big data in this context. He described application scenarios and summarised the effective ways data technology can help enterprises operate efficiently.
After the speech, the participants actively asked questions and discussed the applications of leading-edge IT technology. Experiences on the digital transformation of enterprises were shared and new ideas discussed.
The seminar allowed experts and industry leaders to jointly explore the value of advanced IT technology in improving enterprise research and development efficiency and lean management methods. As a one-stop solution for the application of big data to the manufacturing industry, Ctdata help enterprises customise their digital transformation strategy and achieve productivity gains.
About Ctdata Co., Ltd:
Ctdata Co., Ltd is a joint venture company established by ClusterTech to enhance the application of data analytics to modern enterprises. Leveraging the strong, design and R&D of ClusterTech in Big data, artificial intelligence and high-performance computing, Ctdata is committed to providing professional products, services and solutions for data analytics in manufacturing enterprises to add value and improve productivity for its clients.